L
earn about our upcoming
J
ourneys
Sign-up now and also receive your free Sunrise Energize,
audio meditation to brighten & enlighten your day!
If you are looking for a vacation that leaves you with the feeling of greater purpose in life, then Tao Travel — Journeys that Enlighten the Soul is definitely for you!
Traveling to other parts of the world should be more than just photos and souvenirs. There are far too many people who spend quality money to stand in a place and say they were there.
At Tao Travel we do more than just bring you to a new place:
We change who you are by bringing you to places that enrich your soul and help you achieve divine peace within your mind and within your life.
Do you hunger for greater self understanding and enlightenment?
Do you thirst to visit the epicenters of meditation and spiritual cultures?
Are you ready to balance your body, mind and soul?
Come fulfill your destiny on a Tao Journey. A greater purpose should be the only souvenir you come home with.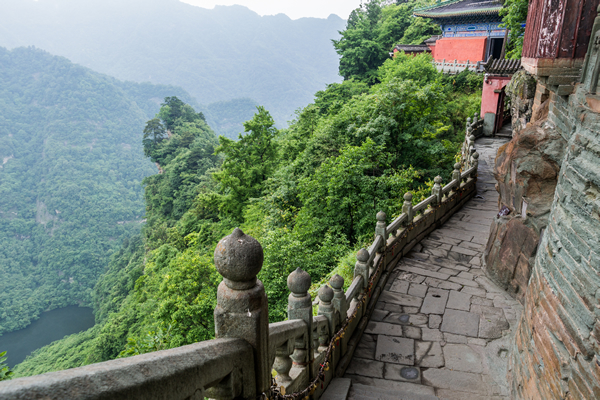 Wudang Mountain, China
Nov. 5 – Nov. 17, 2018
You are standing high on a cliff in one of the most secluded monasteries in the world. The silence is broken only by the burbling of fountains, the whispering of the winds and bird song. Below you, blankets of mist hang in deep valleys and distant mountains are green with pine and cypress forests. The air, fresh and delicate, is so cleansing you feel reborn.
You spent this day with some of the most respected Taoist teachers in the world. These venerated monks and nuns taught you how to attain the perfect balance within yourself and nature. And as you practice these new skills, there is a quiet awakening: you feel more alive than you have ever felt.
Rishikesh, India
Nov. 19 – Dec. 1, 2018
In the quiet, predawn air in the lush, green hills above Rishikesh, you're breathing deeply and fully, reveling in each footstep. You're delighting in your own personal pilgrimage toward the fabled Vashisht Gufa Cave. Just hours ago, you wondered why anyone would want to meditate in a place like this. But now, as you approach the cavern itself, you sense the sacred energies here—not only of this mystical place but also of the thousands of seekers who have come here before, including the famous Saint Vasistha for whom it is named.
Inside the cave, you settle in and close your eyes, allowing yourself to relax and surrender to the powerful influences that pull you deeper. Deeper into the cave. Deeper into life. Deeper into the truth of who you are . . . .
Read what others are saying about Tao Travel
What I found amazing was that you could take a complete group of strangers, bring them together on this trip and then watch as some real beautiful, harmonious stuff happens, trust me! I'd have to say that the Tao Travel Journeys are the trip of a lifetime that you would not regret going on for a second.
You'll find parts of you awaken that you weren't even aware of or just haven't been in tune with for a while. Both my mother and sister have also gone on these journeys with Terry and Tao Travel and have loved it as much if not more than me! As far as Terry Hodgkinson goes, I'll keep it short and sweet, he's a great leader but he's an even better friend!
Carlos Castillo aka CJ - Pensacola, Florida